Diode for 4-Way Blink Fix
In Stock! Orders received before Noon ET ship same business day. Add items to the shopping cart to view shipping rates and methods.
Instagram Feed
Tag us @Custom_LED_LLC in your Instagram Photos to see your photos here!

Customer Reviews

Write a Review

Ask a Question

Filter Reviews:
diodes
problem
company
turn signals
issues
parts
wiring
customer service
flash
diagram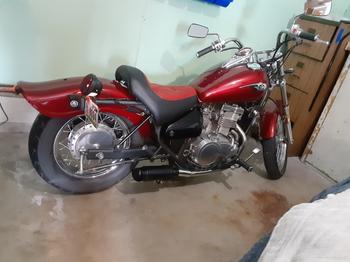 02/16/2021
DIY. Don't be a hack!
This company will have the parts and the "know how" to help you find and fix any of your electrical issues.
Danny W.

United States
02/03/2021
4-way Flash Fix.
The product is great. But you need to know about this company. It fixed my 44-Way Flash problem. Very fast shipping and easy to install (with the hand drawn schematic from Custom LED). I'm an old man who is not an electrician. This company first explained the problem, then the correct fix, then drew instructions on how to install. I thought I was in the 60's again. You simply don't get help from anyone like this anymore. These people should get a medal! I'll go to Custom LED for any more electrical issues and buy all my parts there. And I'll tell anyone who will listen. Thanks again for your help. Danny W. 09' Kawasaki Vulcan 500LTD Bobber project.
Danny W.

United States
06/05/2020
4-WAY / HAZARD BLINK PROBLEM ON MOTORCYCLES WITH LED TURN SIGNALS
work with a 100 percent after i installed it . Here is the deal : I purchased a ELFR-1 ELECTRONIC LED FLASHER RELAY WITH OEM CONNECTOR from customled.com And I used the Custom LED ELFR-1 flasher relay on my Honda VT600 when I converted the lighting to all LED. I did experience the 4-way flasher syndrome and needed to install diodes in the turn signal indicator light circuit to eliminate that problem. This was a little more work than expected; but the result was very good LED lighting. So long story short . Once you properly identify the wires in the harness leading to the gauge cluster, you cut them and install a Diode (1N4001) in each circuit (with the gray band towards the gauge cluster) on the two wires feeding power from the turn signal circuit. You will then combine the outputs of the diodes into one of the two wires leading into the gauge cluster, and ground the other wire going into the gauge cluster. The diodes will keep electricity from being able to cross over from one turn signal circuit to the other, but it will allow the two circuits to be combined to power the indicator lamp properly. I'll up load some pics and vids.
Majed a.

United States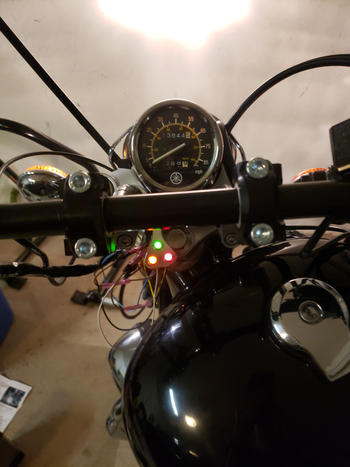 04/02/2020
Worked perfectly
On a 2011 V Star 250! I removed the incandescent gauge for turn/neutral/high beam and put an led one on instead. When the turn led was grounded it created the 4 way problem which 2 of these and the wiring instructions corrected the problem.
MELINDA H.

United States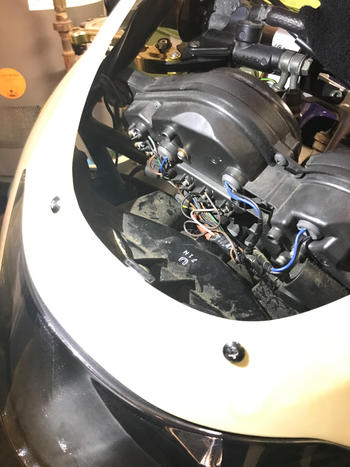 03/18/2020
4-way-blink fix diodes
These diodes worked perfectly on the yzf600r! After upgrading to led turn signals, i got the 4-flash problem. Your article explained the cause of the problem & more importantly, the best fix. This was fairly easy to do & is better than the typical load resistor quick-fix. I would recommend taking apart the instrument panel until the wires to the indicator bulbs are accessible on the backside. Pull the bulb socket out for the turn signal, then wire in the diodes as described. The other gauges have ground wires you can tap into. Use shrink tubes to insulate the diode wires (they dont get hot). Thats it! Sorry pic is after I reassembled, but wires are all exposed when you remove gauge cluster assembly. Thanks for the info & parts!
kirk p.

United States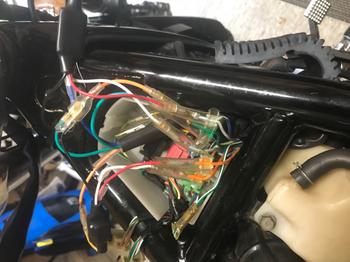 10/21/2019
Great Products Full Service
I've gotten all the products from Custom LED to convert my '93 Honda Shadow VT1100 to all LEDs. Jon walked me, patently, through the full installation. Everything works just as it should! Awesome customer service and products. Go direct to their website. Highly recommend.
Nick K.

United States
08/19/2022
Fixed it !!! (4-Way Blink Problem)
These worked great for my 2001 Honda Nighthawk LED Turn-Single Upgrade.
judith b.

United States
06/21/2022
Fixed my problem
Excellent product! I will buy again!
mike m.

United States
06/10/2022
It works on my Honda Shadow
If you can do some basic tracing wires, splicing, and soldering wires you can do this. Getting to the wires to cut and solder is the tricky part. It cured my problem with the turn signals from being like 4 way signals on my front trun signal lights.
Alan C.

United States
04/25/2022
Fixed 4-way Blink
No wiring diagram on how to make the wiring harness or install it, but once it was figured out, the 4-way blink problem was fixed.
Nathan G.

United States
Hello Nathan, thank you for your 4-star review. Please refer to the 4-Way Blink Fix article in our Blog, which is linked from the diode page, for complete information on how to install the diodes to correct the 4-way blink problem.
02/25/2022
Josh 2005 Vstar 1100
This product is awesome I had the 4-way blinker issue when changing my blinkers from stock to led. I installed the two diodes in the wire harness directly under the gauge on the tank and it fixed the 4-way flasher blink. I also used Custom LED's relay to stop hyper flash I had to move the relay about 6 inches away from the ignition or it had a weird electrical field that caused a minor flickering when the blinker was on. My blinkers work great and the customer service is the best I have experience. I would definitely recommend Custom Led to anyone working with led's.
Joshua L.

United States
01/14/2022
Diode
100% satisfied. This company rocks, I replaced my lights with LED's and had hyper flash the Diodes and wiring diagram solved my issue
Robert P.

United States
12/01/2021
4 way blink fix
Followed their diagram and it fixed my issue with all four turn signals going off when I converted my vstar 650 to all LED
Joseph B.

United States
08/30/2021
Worked great!
So at first I didn't receive my product which was entirely due to the postal service, (there fault completely). And after talking to Custom LED they were quick to try and fix the problem and even contacting the postal office for me. So 5 stars just for customer support alone!! As far as the product goes, it was a fairly easy install and Custom LED even sent me installation instructions so all in all I'm happy I chose Custom LED and would definitely recommend!
Andrew S.

United States