ELFR-1 Electronic LED Flasher Relay with OEM Connector
In Stock! Orders received before Noon ET ship same business day. Add items to the shopping cart to view shipping rates and methods.
×
Recommended Accessory
This item is recommended for use with the ELFR-1 Electronic LED Flasher Relay with OEM Connector
SALE
Motorcycle LED Blinkers - Compact Universal Fit - V1 (pair)
Compact universal fit short stalk LED blinker lights for motorcycles. 12 Ultra-Bright Yellow LEDs for turn signal indication front or rear. Can be used as a running light and turn...
» View full product details
Maintains OEM Blinker flash rate for a wide range of LED and non-LED blinkers.
Plug and play connectivity with OEM connector for 2-wire AND 3-wire OEM Flasher Relay Connectors (see compatibility list).
Recommended accessory for all Custom LED Integrated LED Tail Lights.
Near zero initial turn-on delay (other LED relays delay when signals are first engaged).

1-year 

Warranty

 & 

Satisfaction Guarantee.
Ships same business day.
Overview
Now you can finally fix the flash rate on your motorcycle with our unique Plug And Play solution!  That's right, our Electronic LED Flasher relay directly replaces the stock flasher relay on most Yamaha, Honda and Kawasaki motorcycles by plugging directly into the harness in place of the OEM flasher relay! 
Whether your OEM relay has 2-wires or 3-wires, our flasher relay is a direct replacement for compatible motorcycles, as the 3rd wire is simply a ground connection which our relay does not require.  See the compatibility list below for bikes that are known to be Plug-and-Play compatible with our ELFR-1.
For other motorcycles not on this compatibility list, please click here.
For motorcycles with nonstandard two wire flasher relays (not on compatibility list), this flasher relay can still be used by removing the connector and hard-wiring it.  Even three wire flasher relays can be replaced if one of the wires is a ground wire.  We also have a new connector option on our ELFR-1 QD model, which may be more useful for hard-wire and custom applications.
This unit is guaranteed to replace any two-wire flasher relay and operate at the normal DOT blink rate for motorcycles with stock blinkers, LED blinkers, or any combination of both, provided the total load on the system is within 0.05A to 10A (0.6 Watts to 120 Watts!) - which basically covers the majority of  blinker products on the market!
See the Installation Tab for more important details.
Your motorcycle must have a rectified standard 12VDC system for this flasher relay to work (most bikes are 12VDC).
Specifications
Minimum Rated Current: 0.05A
Maximum Rated Current: 10A
Rated Voltage: 12VDC
Flash Rate: Constant
Size: 1.2" x 1.77" x 0.74"
Compatibility List
ELFR-1 FLASHER RELAY PLUG-AND-PLAY COMPATIBILITY LIST:
NOTE: USA SPEC SHOWN, FOR NON-US SPEC VERIFY INDIVIDUALLY
This list will determine if your motorcycle harness is known to be Plug-And-Play with our ELFR-1 Flasher Relay!  If your bike is not on the list, it may or may not be plug-and-play.  Please visually compare the flasher relay connector on your motorcycle to confirm before ordering.  The compatibility list is arranged by engine displacement.  If there is no year designation for your bike, that means it fits all years.
Honda:
Super Cub C125, Z125M/A (Monkey), NSS250, PS250, VTR250, CMX450, CB600F, 07-current CBR-600RR, CBR600F, CBR600F2, CBR600F3, CBR600F4, CBR600F4i, Shadow VLX (VT600C), NT650, 83-85 CB650, CB700SC, 84-87 Magna (VF700), 91-03 CB750, 84-87 Shadow (VT700), 82-84 Magna (VF750), Shadow 750 (VT750), VFR750F, VFR800, CB900F, CBR900RR, CBR929RR, CB919, RC-51, 2011+ CB1000R, 04-16 CBR-1000RR, CBR1000F, RVT1000R, Shadow 1100 (VT1100), VTR1000F, VTR1000R, CBR1100XX, ST1100, VF1000R, VF1100C, 83 GL1100, 84-87 GL1200, ST1300, VT1300, VTX1300, 89-00 GL1500, 2012+ GL1800, 02-04 VTX1800, (and more!)
Husqvarna
2017+ FE 250, 2017+ FE 350, Svartpilen 401, Vitpilen 401, 2017+ FE 450, FE 350S, 2017+ FE 501, FE 501S, 701 Enduro, 701 Supermoto, Vitpilen 701
NOTE: ELFR-1 locking tab must be removed to be plug-and-play compatible.  The OEM connector is a 2-position, whereas ours is 3-position connector with only 2-pins populated.  The pins will align, but the tab is mis-aligned thus requiring removal.
Kawasaki:
KLX250S/SF, 96-07 250R, 500R, 96-09 Vulcan 500, ER-6N, ZZR600, 05-06 ZX-636, 95-08 ZX-6R(R), 2013+ ZX-6R, 2007+ Versys 650, 2015+ Vulcan S 650, 08-17 KLR650, W650 (EJ650), Ninja 650R, Ninja 650, ZR-7, 96-03 ZX-7R, 05-06 Z750S, Z800, 95-05 Vulcan 800, Z900, 2006+ Vulcan 900, ZX-9R, ZX-10R, 03-06 & 14-16 Z-1000, 15-17 Versys 1000, 2011+ Ninja 1000, ZX-11, ZXR1200R (1100), ZX-12R, ZX-14,  ZZR1200, ZX1200, 96-99 Vulcan 1500, Vulcan S, (and more!)
KTM:
(most models!) 125, 250, 350, 380, 400, 450, 500, 525, 530, 540, 620, 625, 640, 690, 950, 990, (and more!)
Kymco:
XCiting 250, XCiting 500, (and more!)
Suzuki:
*Note: For all Suzuki applications, modification to the locking tab on the ELFR-1 may be necessary.
89-00 GS500E, 88-97 Katana (GSX600F), 94-96 RF600R, 96-99 Bandit (GSF600S), 96-13 DR650SE, 96-04 Savage (LS650P), 89-97 Katana (GSX750F), 93-95 GSX-R750W, 90-93 VX800, 92-97 Intruder (VS800GL), 94-97 RF900R, 93-98 GSX-R1100W, 97-00 Bandit (GSF1200S), 87-03 (VS1400GLP), (and more!)
Triumph:
Daytona, Bonneville, Scrambler (most), Street Triple (most), Tiger 800, Tiger 800XC, Tiger 1050, Tiger 1050 SE, Thruxton, (and more!)
Yamaha:
TW200 Trailway, Morphous 250, V-Star 250, Virago 250, XV250, WR250, XT250, XMAX, YZF-R3, Majesty 400, SR400, 99-16 YZF-R6, YZF600, FZ-6, FZ-6R, XSR700, YZF750, YZFR7, FZ-07, FZ-8, FZ-09, MT-09, FJ-09, XSR900, SR950, Bolt C Spec, YZF1000, 98-14 YZF-R1, FZR-1000, FZ-1, FZS1, 03-12 FJR1300, MT-01, Super Tenere, 2009+ VMAX, Royal Star, (and more!)
For other motorcycles not on this compatibility list, please click here.
General Compatibility Note:  Although we try to keep this Plug-And-Play list current and complete, there are many more bikes out there that are Plug-and-Play compatible, and hard wire compatible with our LED Flasher Relay.  We can not list them all!  If your motorcycle has a two wire flasher relay, our relay will work for certain but may need to be hard wired into the harness.  For three wire flasher relays, if one of the three wires is merely a ground wire, our relay will work but may need to be hard wired into the harness.
ELFR-1 HARD WIRE INSTALLATION INSTRUCTIONS:
NOTE: You may lose your self-canceling feature by replacing the flasher relay if your bike is equipped from the factory with self-canceling turn signals.  If you want to keep this feature, use our Stage II Load Equalizers instead.
All Applications:
If your existing flasher relay is a two wire flasher relay (or a three wire with a ground wire), and you have access to it, you can replace it with our flasher relay.
Identify and connect the wires leading to the OEM flasher relay as follows:
Red wire on ELFR-1 to power source (ignition switched +12v)
Black wire on ELFR-1 to load (blinker lamps/ blinker switch)
Ducati:
996 - hard wire installation as follows when replacing OEM relay with our Electronic LED Flasher Relay:
Motorcycle Light Blue (LB) gets connected to the ELFR-1 Red wire
Motorcycle Pink (P) gets connected to the ELFR-1 Black wire
Honda:
2014 Grom hard wire installation as follows when replacing the OEM relay with our Electronic LED Flasher Relay:
Motorcycle Black to ELFR-1 Red wire

Motorcycle Gray to ELFR-1 Black wire

Use optional male "quick disconnects," or available from Custom LED as P/N: 

ELFR-1 QD
2003-2006 CBR 600RR hard wire installation as follows when replacing the OEM relay with our Electronic LED Flasher Relay:
CBR 125
Motorcycle Brown wire to ELFR-1 Red wire

Motorcycle Blue wire to ELFR-1 Black wire

Use optional male "quick disconnects," or available from Custom LED as P/N: 

ELFR-1 QD

See picture of installation 

here
Kawasaki:
08-11 Ninja 250R hard wire installation as follows when replacing the OEM relay with our Electronic LED Flasher Relay:
Motorcycle Orange/Green stripe wire to the ELFR-1 Red wire
Motorcycle Orange wire to the ELFR-1 Black wire
Use optional male "quick disconnects," or available from Custom LED as P/N: ELFR-1 QD
Yamaha:
Roadstar line (some models, < 2015), Raider, Warrior Stryker, V-Star - hard wire installation as follows when replacing OEM relay with our Electronic LED Flasher Relay:
Motorcycle Brown wire to ELFR-1 Red wire
Motorcycle Brown/white stripe wire to ELFR-1 Black wire
view picture here
Use optional male "quick disconnects" as available from Custom LED as P/N: ELFR-1_QD
If you find that your motorcycles flasher relay is not two-wire and/or replaceable, you may use the Custom LED Universal Load Equalizers along with your stock flasher relay instead.
Video
Installation
The Custom LED ELFR-1 Plug-And-Play Electronic LED Flasher Relay comes with detailed installation instructions.
Installation of this product requires that you identify and remove the OEM flasher relay motorcycle.  If you are unfamiliar with the location of your OEM flasher relay, or electronics in general, please consult a qualified technician or your repair manual for additional information.
Installation of the ELFR-1 is as follows:
Click icon to download.
Adobe Acrobat Reader is required to view this file.
If you are having problems viewing the file, please download the free software here.
NOTE: In some rare instances, when there are NO incandescent loads on the blinker system (LEDs front and rear), additional actions or components may also be required to prevent a wide range of blinker problems.  These problems are all associated with a lack of resistive load on an all-LED blinker system that was designed for incandescent lamps.  Problems such as, but not limited to: the 4-way blink problem (both sides blinking at the same time), the no-blink problem, and Integrated LED Tail Lights staying in "blinker mode" due to non-zero blinker voltages.  Rest assured that Custom LED has the knowledge, experience, and expertise to tackle any issues that may arise on your motorcycle.  
Remember, the Flasher Relay ONLY controls the speed of the blinkers on the motorcycle, and any other problems that arise are independent of the flasher relay, and are resolved separately as well.
These products are recommended accessories specifically for the ELFR-1 Electronic LED Flasher Relay with OEM Connector. Click on them to learn more.
Instagram Feed
Tag us @Custom_LED_LLC in your Instagram Photos to see your photos here!
Customer Reviews
Filter Reviews:
bike
plug
play
installation
honda
products
Works
LEDs
flash
flasher relay
08/15/2019
Too easy!
Product was great! Flasher relay plugged right in and the oem connectors were on point. Clean install, plug and play. Don't hesitate and buy them. You'll be glad you did!
Pablo P.
United States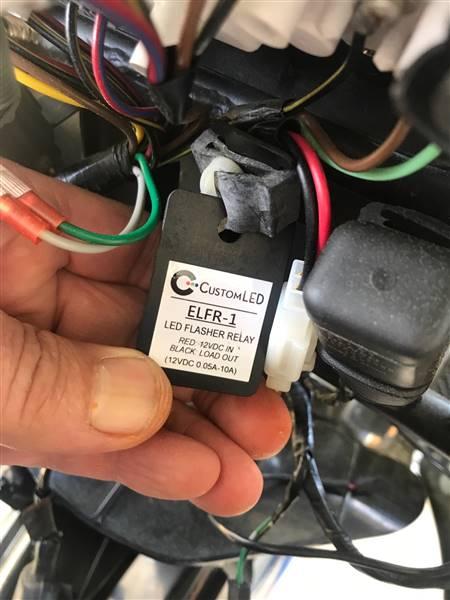 03/17/2019
flasher relay and diode upgrade/klr 650
I want to really thank Custom LED for great products. It's nice to have a product that is plug-and-play. If you ever have a problem they are always there to help. This is why I keep going back to Custom LED - because if I have a problem they have the answer. They are Johnny on the spot on replies too. Thanx again Custom LED!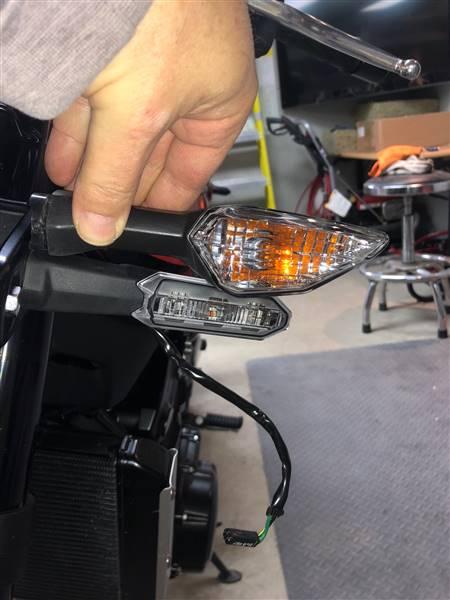 09/25/2018
Kawasaki Z900RS LED Signal Change
Ordered the ELFR-1 for my Z900RS turn signal change from North American to EU LED style turn signals. Install went perfect and the ELFR-1 performs perfectly and will recommend to anyone wanting to switch. Thanks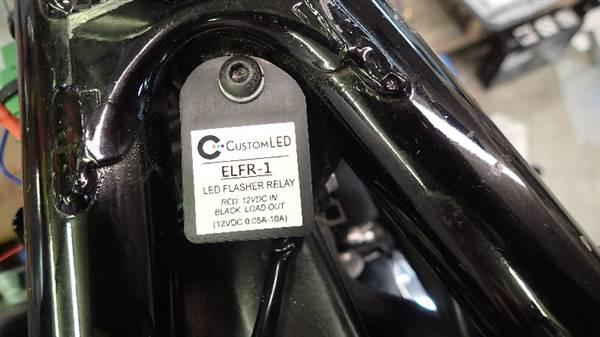 04/25/2018
Very Easy to Install, works perfectly.
There isn't much of a need to look any further for an Electronic flasher for a bike with this type of connector. Being able just to plug and play is very nice and the flasher does exactly what it is supposed to do. John was also very helpful while I was trying to troubleshoot some other signal related issues. I would highly recommend you do business with Custom LED.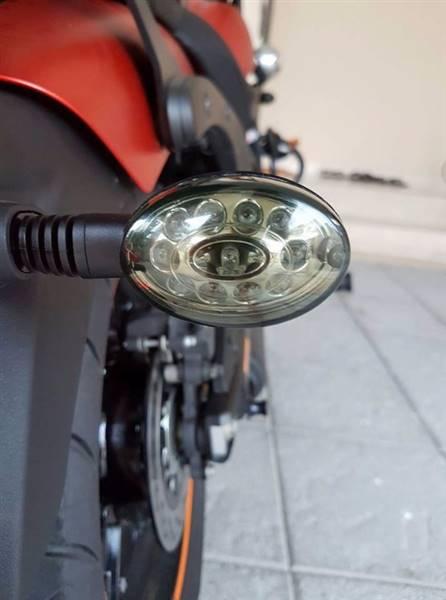 09/28/2017
Perfect replacement for my Vulcan 650S OEM flasher!
I wanted to install new LED signal flashers, but a cheaper flasher relay didn't work. The OEM connector made installation simple. My new LED signals flash at a perfect rate and look great too!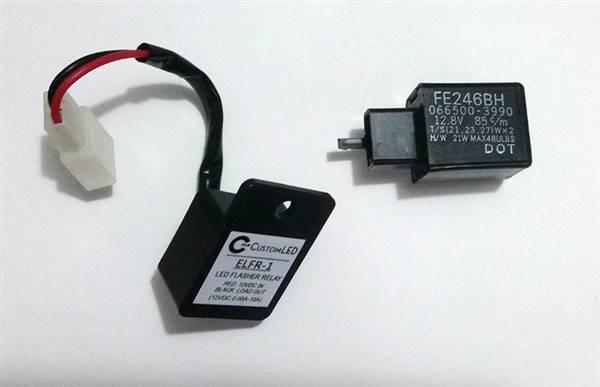 08/04/2017
Functions perfectly..
It works perfectly in eliminating LED hyper flash and the connector fits OEM. I couldn't give it 5 stars because mounting on a 2013 Yamaha R1 has to be rigged (used plastic tie strip). Much better than the "delayed turn on" TST Gen 2 I was using.
Thank you for your review! I see you have deducted one star because our ELFR-1 does not provide the same physical mounting attachment to the motorcycle as the OEM flasher relay. As you may know, our ELFR-1 is compatible with HUNDREDS of different motorcycles that often use different OEM flasher relays from one another. There is no OEM mounting type that will work across all of the motorcycles in the application list. This is why we provide the simple hole to use a tie strap to secure the ELFR-1. Sorry for any inconvenience this may have caused, but unfortunately it is the only universal method we could provide.
07/18/2017
Awesome product
Love this tail light! Easy to install and seems to be very well made.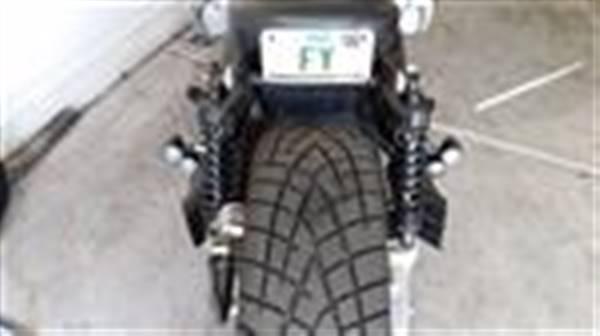 03/21/2017
Valkyrie's LED R-T-B light working...slowly
After getting my KTM's tail light taken care of, I inquired about a remedy for my hyper-flashing LED's and I was thinking I needed a resister and Jon suggested this product as a plug and play and it worked...took me more time getting to the relay than to actually change it...voila! Problem fixed!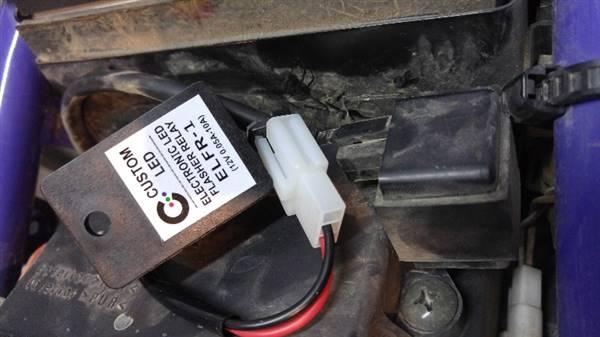 06/07/2016
ELFR-1 Electronic Flasher
I got this into my 1998 Suzuki DR650. Plugged into and got in the stock location. Only been using it a week or so but it works great and I don't anticipate any problems. Thanks for the great service!
11/12/2019
LED Problems Solved
I bought a used 2006 CBR600RR that had led signals installed with resistors and they only worked randomly. Usually they just stayed solid and did not blink at all. The previous owner had done some sketchy wiring so I started from scratch and had my local dealer install a new front wiring harness, new LED turn signals up front, a new LED taillight and a flasher relay I purchased from a different (very popular motorcycle parts) website. They claimed to have the perfect flasher solution for my exact bike but in my experience it was not effective. Everything worked fine for a week but then the no blink problem came back. I ordered this CustomLED flasher relay and it has fixed the problem 100%. I would consider myself a fairly knowledgeable mechanic and it was extremely easy to install this relay into my factory wiring harness with no cutting or splicing required. I highly recommend watching the tutorial video it explains the entire process in great detail. Took under 30 minutes from the time I pulled out the toolbox to the time I went for a test ride. This is a long review but I hope it helps someone with their problem. I often hear of hyper-flash problems but rarely no-flash problems. I would recommend this relay with any led signal upgrade, don't waste your time with resistors.
Steven C.
United States
11/11/2019
It easy plug and play!
It's easy plug and play feature works better than a mechanical relay
WS
William S.
United States
11/01/2019
Full system install..
Did the whole package so nice, very happy.
Ted J.
United States
10/30/2019
ELFR-1 Save
After buying a junk knockoff online that didn't work, I found Custom LED. Ordered my relay on sale and it arrived quick. Mounted easily and works great!
James E.
United States
10/23/2019
Just perfect
The $hit on all these products are perfect. Jon help me with everything I need for my bike.
Charles W.
United States