Blaster-X Control Switch
In Stock! Orders received before Noon ET ship same business day. Add items to the shopping cart to view shipping rates and methods.
Works with all Blaster-X Tail Lights to control Strobe Mode and the Programming Features.
NEW! Features an On-Off-Momentary operation for easy programming and strobe-mode use.
Super simple installation with prewired 24" long gray wire (connects to Blaster-X Tail Light program wire), and 16" long black wire with ring terminal for ground connection.
1-Year Warranty & Satisfaction Guarantee.
Ships same business day.
Overview
The Blaster-X Control Switch is an optional accessory for all Blaster-X Tail Lights.  This switch will allow you to conveniently control the strobe mode operation of the tail light (intense strobe cycle, like hazards on steroids), and to program advanced features of the tail light.  General Blaster-X Tail Light Programming instructions are available here.  Check the instructions for your specific Blaster-X tail light for exact features.
The Custom LED Blaster-X 2nd Generation Programming Interface allows users to easily customize features of the tail light!  The customizable features menu allows users to:
Enable or Disable the Startup Sequence.

Choose from 11 different Brake Alert patterns (can also disable Brake Alert).

Adjust the running light brightness within a preset range.

Adjust the brake light brightness within a preset range.

Engage Demo Mode, where the tail light cycles through all functions automatically and repeatedly!

Reset factory defaults.
This switch is not necessary for standard integrated tail light operation.
Each Blaster-X Control Switch comes with a 24" long gray wire to connect to the tail light gray wire (control/program wire), and a 16" long black wire with ring connector for ground connection at battery or anywhere on frame. 
Installation
The OFF position on the switch is for normal tail light operation.
The MOMENTARY position on the switch is very useful for a momentary strobe-mode burst, or for programming the tail light.
The ON position on the switch is intended for extended strobe-mode use.
The installation of the Blaster-X Control Switch is detailed in the downloadable file below.
Click icon to download.
Adobe Acrobat Reader is required to view this file.
If you are having problems viewing the file, please download the free software here.
Instagram Feed
Tag us @Custom_LED_LLC in your Instagram Photos to see your photos here!

Customer Reviews

Write a Review

Ask a Question

Filter Reviews:
switch
bike
tail light
Blaster-X
strobe mode
Item
attention
factory
modes
Works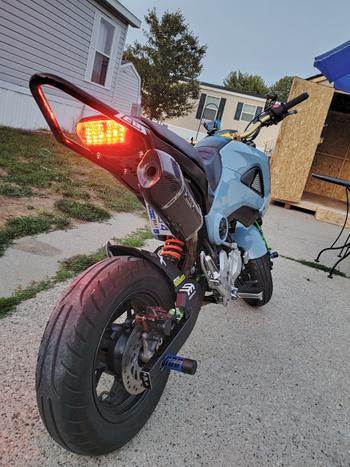 08/09/2020
Blaster-X led taillight and switch contol
love em both, put the tail light on my bike and its significantly brighter than any tail light I've seen out there. I mounted the switch on my bike as well. It was a little confusing programming the light in different configurations, but still love the set up. I'd put these Blaster-X Tail Lights on any bike I had!
Jason N.

United States
05/17/2020
Blaster x switch
Works better than expected. Will absolutely get noticed when extra safety is needed.
Cisco

United States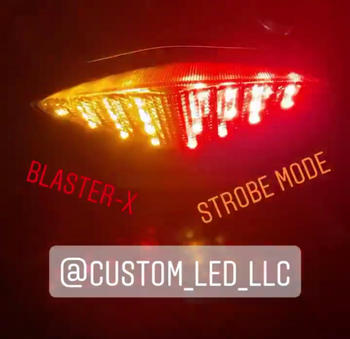 02/02/2020
Be Seen!
The Blaster-X Control Switch is the prefect addition to the Blaster-X tail light! Simple to install with amazing results. Super satisfied that I got this paired with my Blaster-X tail light.
steevoglee

United States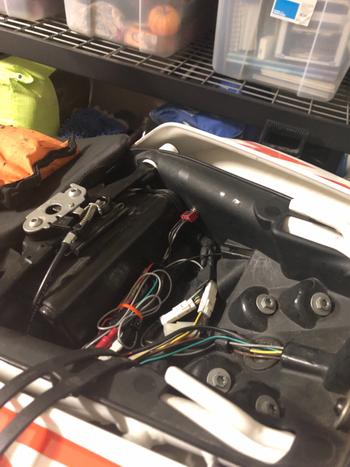 04/12/2019
2015 KTM 1290 SDR
I bought this bike used off craigslist with the BlasterX taillight already installed. The previous owner mentioned issues with the taillight. So I emailed the BlasterX people and within the day I had a response with a solution that worked. Absolutely great customer service and the taillight is sharp. I had to buy the switch based on the quality of service I received earlier. The switch went in easy enough. It is a must buy if you plan on doing any programming for the taillight.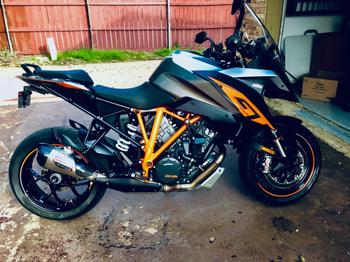 11/03/2018
Easy install!
Picked this up for the new tail light for my Super Duke GT. Slid the switch right between the passenger seat and grab handle so I didn't have to drill any holes. It's not even noticeable and sits in the gap snugly without movement. Great little add on for the light!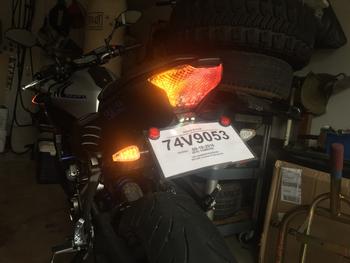 08/20/2016
Perfect fit
Easy plug and play install. Also ordered the flasher and toggle switch. Very bright and looks good, would absolutely buy again.
08/05/2022
Awesome feature
Crazy cool product, must have item for your programmable tail light
Pierluigi R.

United States
07/25/2022
Good
Easy to install but didn't need it
Tyler C.

United States
07/08/2022
2022 zx10r rear blaster x tail light
This rear custom led tale is one of the best mods ive done to my bike the brightness the the modes are great and works great as turn signals anyone going custom led definitely won't be disappointed
Omar P.

United States
05/21/2022
Very Useful
We all like to show off our bikes. This switch allows you to stun people with your new led brake light and customize your settings easily. Definitely worth it!
Darriell B.

United States
04/24/2022
A little trick at first but worth it.
I'm giving 5 stars as this worked as advertised. Was it tricky at first? Yes! But once you get the hang of it, makes programming the light so much easier.
NATHAN S.

United States
04/20/2022
East install
Quality switch, strobe mode gets some attention!
Josh F.

United States
04/15/2022
Looks good on my 2020 R1
Love it. The strobe when braking makes me feel safer
Ryan R.

United States
03/08/2022
Sarah S.

United States
11/15/2021
love it!!
works as stated only wish there was a led number telling you what setting you are on? would pay extra for a function like that!!
kee l.

South Korea