Blinker Genie - Pre-Wired for 2017+ Yamaha YZF-R6
In Stock! Orders received before Noon ET ship same business day. Add items to the shopping cart to view shipping rates and methods.
×
Recommended Accessory
This item is recommended for use with the Blinker Genie - Pre-Wired for 2017+ Yamaha YZF-R6.
Yamaha OEM Turn Signal Y-Splitter Connectors, 3-Wire (pair)
Allows for 2 turn signal lamps to be connected to each turn signal circuit. Increase turn signal visibility with two sets of lamps, such as: Integrated turn signals and auxiliary...
» View full product details
Allows for Run AND Turn operation of the OEM Pilot Lights on the 2017-2020 YZF-R6.

Complete plug-and-play harness with OEM connectors - no cutting/splicing and fully reversible (note: mirror block-offs must be purchased elsewhere if you wish to remove the mirrors).
Works with or without the OEM mirror lamps (note: purchase the Yamaha 3-Wire Connector Y-Splitters if you wish to use the mirror lamps also).

Fully compatible with the YZF-R6 electronics - no fast-blink rates or error messages.

Detailed illustrated installation instructions.

Manufacturer direct purchase.

1-Year 

Warranty

 & 

Satisfaction Guarantee

.

Made in the USA.
Ships same business day.
Video
We have a large collection of all Custom LED product videos on the Custom LED YouTube Channel.
The videos in this playlist below are a collection of user-submitted and original videos related to this product.
Overview
This variation of our Blinker Genie is designed specifically for the 2017+ Yamaha YZF-R6 to allow the OEM Pilot Lights to function as run and turn - commonly known as the "DRL Mod".  The kit is 100% plug-and-play and fully reversible!  This kit can be used with or without the OEM mirror blinkers as well!  Purchase our Yamaha turn signal Y-Splitters if you wish to use the OEM or aftermarket blinker lamps in conjunction with the Pilot Lights..
Check out the main product collection for other applications of our Blinker Genie.
Features
Fully compatible with the YZF-R6 electronics - no fast-blink rates or error messages

Comes as a complete kit with OEM connectors and illustrated instructions

Works with or without the OEM mirrors

Completely water proof

1-Year Warranty & Satisfaction Guarantee
Installation
This product was carefully designed to be 100% plug and play with the OEM connectors and electronics on the 2017+ YZF-R6.  There will be no error messages, or fast-blink turn signals with this kit installed.
In addition to offering stand-alone run and turn signal function of the OEM pilot lights, this product also allows for the use of the OEM mirror lamps (run and turn signal) in conjunction with the OEM pilot lights with the additional purchase of the Yamaha Connector Y-Splitters (see recommended accessories).
Installation is according to the detailed Illustrated Installation Instructions below.
Click icon to download.
Adobe Acrobat Reader is required to view this file.
If you are having problems viewing the file, please download the free software here.
Recommended Accessories
These products are recommended accessories specifically for the Blinker Genie - Pre-Wired for 2017+ Yamaha YZF-R6. Click on them to learn more.
Instagram Feed
Tag us @Custom_LED_LLC in your Instagram Photos to see your photos here!

Customer Reviews

Write a Review

Ask a Question

Filter Reviews:
instructions
pictures
combination
components
problem
items
shop
mirrors
splitter
something
09/09/2022
Blinker Genie for R6 2017.
Took me 15-20 minutes for the installation. Came with instructions, pictures of how to install. Plus I got rid of those **** bulky mirrors. The turn signals look awesome. Cool product.
Ivan N.

United States
08/11/2022
Perfect turn signal!
This are perfect turn signal for what I was looking for, I wanted something that would blend in into my existing set up and I didn't want to add any extra turn signal or have to drill into the plastic , this was so easy and quick and it looks so clean, definitely recommend it..
Ricardo p.

United States
07/24/2022
Yamaha R6 Lights
They're great! Easy plug and play instructions provided and they look fantastic!
John N.

United States
07/20/2022
Blinker genie
It was so easy to install, instructions are really helpful!
Esmeralda V.

United States
07/05/2022
Straight forward install. Looks awesome
10/10 would buy again
Troy H.

United States
07/05/2022
Very Happy
The product works perfectly, had a slight problem at first but their customer support sorted it out quickly for me, I highly recommend this if you're replacing or removing your stock mirrors.
Hunter T.

United States
05/28/2022
Blinker Genie - Pre-Wired for 2017+ Yamaha YZF-R6
Have installed many of these in our shop & they work perfectly every time as they carry the same great quality just as all the rest of Custom leds other products do!!! We have been buying from them for 20yrs now or very close to it & still do due to the quality one off items they offer, no reason not to give them your biz!!
Anonymous

United States
03/22/2022
Don't hesitate…you need this.
I recently purchased a set of stealth mirrors for myself, meaning the stock blinker/mirror combo in my 17' R6 were no longer present. I found this kick *** blinker system after months of debating which after market low profile blinker to buy. Immediately I knew I had to have it in combination with my new mirror purchase. It was my first time removing the front fairing to access the electronic components…install was very straight forward and EXTREMELY well detailed(pictures included) from Custom LED. Overall time of actual product install was probably 30 minutes.(I'm OCD with my wiring supports and making it clean) I cannot thank them enough for such a phenomenal product. My bike turns heads and I know I'm street legal without all the additional "bulk" of other aftermarket blinker systems. Thank you Custom LED!
Brandon M.

United States
03/04/2022
Tommy W.

United States
02/26/2022
blinker genie
products is great its easy to install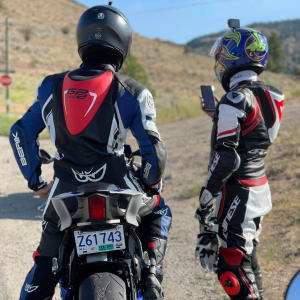 CD
Chloe D.

Canada
05/28/2021
Blinker Genie
This product is mint. I love it...Y splitter worked nicely. Very easy to do..very happy. Thank you..
Mike M.

United States