2014-2016 Yamaha FZ-09 Blaster-X Integrated LED Tail Light
In Stock! Orders received before Noon ET ship same business day. Add items to the shopping cart to view shipping rates and methods.
×
Recommended Accessory
This item is recommended for use with the 2014-2016 Yamaha FZ-09 Blaster-X Integrated LED Tail Light.
Blaster-X Control Switch
Works with all Blaster-X Tail Lights to control Strobe Mode and the Programming Features. NEW! Features an On-Off-Momentary operation for easy programming and strobe-mode use. Super simple installation with prewired 24" long...
» View full product details
×
Recommended Accessory
This item is recommended for use with the 2014-2016 Yamaha FZ-09 Blaster-X Integrated LED Tail Light.
SALE
ELFR-1 Electronic LED Flasher Relay with OEM Connector
Maintains OEM Blinker flash rate for a wide range of LED and non-LED blinkers. Plug and play connectivity with OEM connector for 2-wire AND 3-wire OEM Flasher Relay Connectors (see...
» View full product details
×
Recommended Accessory
This item is recommended for use with the 2014-2016 Yamaha FZ-09 Blaster-X Integrated LED Tail Light.
SALE
H4 LED Headlight Bulb - High Performance
High performance H4 (9003/HB2) LED high/low beam Headlight Bulb (single bulb) High-beam and Low-beam function supported with dual-LED chips Super-bright 1250/2000 Lumens per high/low beam (*real output, not peak) Optimized focal point ensures...
» View full product details
×
Recommended Accessory
This item is recommended for use with the 2014-2016 Yamaha FZ-09 Blaster-X Integrated LED Tail Light.
Yamaha OEM Turn Signal Y-Splitter Connectors, 3-Wire (pair)
Allows for 2 turn signal lamps to be connected to each turn signal circuit. Increase turn signal visibility with two sets of lamps, such as: Integrated turn signals and auxiliary...
» View full product details
Overview
The Custom LED Blaster-X Integrated LED Tail Lights are the finest tail lights on the market, and the 2014-2016 Yamaha FZ-09 is just one of many motorcycle models that we produce tail lights for.
Since our founding in 2003, Custom LED has designed and manufactured our top quality motorcycle tail light products in our own facility, right here in the USA. The Blaster-X Tail Lights are the result of a steadfast commitment to produce the best and brightest integrated tail lights available. We put our pride and craftsmanship into every single product that we produce. Quite simply, this is the best and brightest production motorcycle tail light that money can buy.
Each Blaster-X Integrated LED Tail Light features powerful and effective safety features built right into the tail light.  These features include: Blaster-X Technology with Brake Alert, Turn Alert, and Strobe Mode.  Click to find out more about these features.
If you are new to the Custom LED brand, perhaps you would like to read about what makes Custom LED's Tail Lights the best available. Also, you may want to read about our founding principles that focus on quality and safety, in each motorcycle tail light that we design, manufacture and assemble. For instance, we do not produce dangerously dark Smoked Tail Lights, or Sequential Tail Lights because they go against the principles that this company is founded on.
Features
Plug-and-Play installation with OEM connectors (tail light AND turn signals)

OEM Fit with high quality clear or smoked lens (

want smoked lens?

)

32 Ultra Bright Red LEDs for running and brake lights

32 Ultra Bright Yellow LEDs for turn signals

Stealth

 black boards for inconspicuous appearance

Custom LED ColorChange Technology on-board

Custom LED Blaster-X PWM Technology on-board
Custom LED Strobe Mode
Custom LED Brake Alert
Custom LED Turn Alert
Custom LED Sure-Blink Technology
2nd Generation Programming Interface allows users to easily customize programmable features

Built-in Stage I Load Equalizers

Robust regulated design for consistent and reliable performance

4 MHz microprocessor controlled operation

24/7 customer support

2-year 

Warranty

 & 

Satisfaction Guarantee

MADE IN THE USA

NOT DOT approved
Video
We have a large collection of all Custom LED product videos on the Custom LED YouTube Channel.
The videos in this playlist below are a collection of user-submitted and original videos related to this model motorcycle.
Installation
The Custom LED 2014-2016 Yamaha FZ-09 Blaster-X Integrated LED Tail Light was designed to function as a direct replacement for the OEM tail light.  The unit will install with exactly the same fit and electrical connectors as the OEM unit.  No cutting, splicing, or bodywork modifications are required, what so ever.
Additional hardware may be necessary if you wish to remove the OEM fender assembly and/or modify the bodywork on your motorcycle.  The fender assembly typically supports the license plate, and OEM blinker lamps.  On some models, removal of this fender assembly leaves gaps or unfinished sections of the bodywork under the tail section.  Keep in mind, our product is a direct replacement for the OEM tail light, and does not require any additional modifications.
There may be additional accessories required to correct blinker problems on your motorcycle if you remove your OEM turn signals. These accessories can not be built into the tail light, and are generally optional and specific to different customers needs, so they are sold separately. Please see the recommended accessories, and read about the general issues and solutions in our Frequent Questions Page. If you have any questions, please do not hesitate to contact us.
Installation of this product requires that you remove the OEM tail light from the motorcycle, and install this unit in its place.  Please consult a qualified technician or your repair manual for the proper procedure to remove the OEM tail light.
Once the OEM tail light is removed from the motorcycle, installation of the Custom LED 2014-2016 Yamaha FZ-09 Blaster-X Integrated LED Tail Light is detailed in the instructions below.
Click icon to download.
Adobe Acrobat Reader is required to view this file.
If you are having problems viewing the file, please download the free software here.
2nd Generation Programming Interface Supplemental Brake Alert Programming Guide.
Recommended Accessories
These products are recommended accessories specifically for the 2014-2016 Yamaha FZ-09 Blaster-X Integrated LED Tail Light. Click on them to learn more.
Instagram Feed
Tag us @Custom_LED_LLC in your Instagram Photos to see your photos here!

Customer Reviews

Write a Review

Ask a Question

Filter Reviews:
play
bike
Quality
anyone
tail light
best
installation
look
replacement
brightness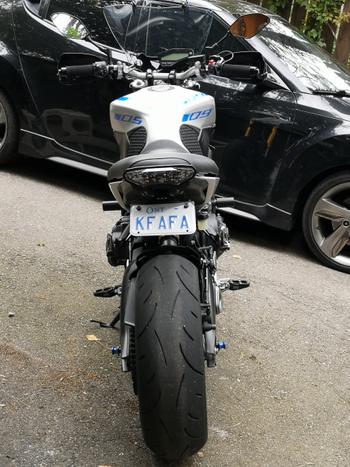 10/09/2022
Led tail light
I think it is better than any stock unit, very happy with moneys spent well worh it highly recommend
karl h.

Canada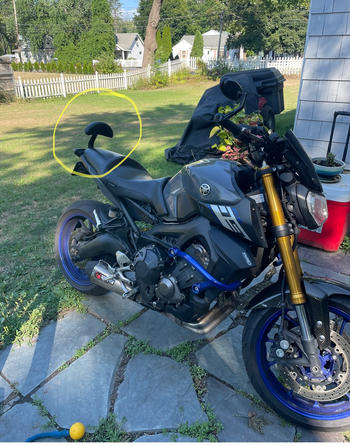 07/31/2022
2015 Yamaha FZ09 tail light
Love the product! Easy install to factory wire harness. Super bright and I love the strobe effect when you first apply the brakes.
Michael D.

United States
05/17/2021
Blaster x Tail light
Safety and visibility is my top concern when I'm on my bike that's why I purchased this extremely bright and visible taillight along with the LED relay. Besides the brightness it also was made of excellent quality better than OEM And best of all it was plug and play EXACT FIT and MATCH with my 2015. FZ09. I definitely recommend this product to anyone. Lastly shipping was extremely quick I recieved my order in 2 days !!!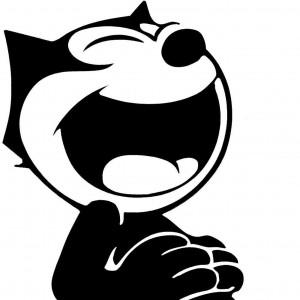 LP
Luis p.

United States
04/28/2021
Bright as heck!
This is the best integrated tail light for the first generation FZ/MT09. Great service also from Custom LED. I needed to be seen - and this thing is incredible. Love it !
Rick B.

Canada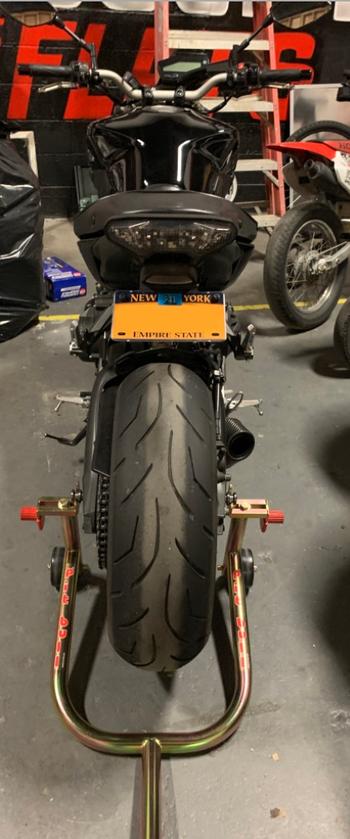 03/27/2020
FZ09 looking clean
Top quality materials. Easy installation, easy way to clean up the tail and add a lot of visibility to your bike. I live in NY and everyone here is distracted in their steel cages. So the more visibility you have the better when turning and stopping. I got the tinted version and it is super bright. Also got the programming switch and being able to change the light patterns to a few more strobes is a nice option and super easy.
Matthew B.

United States
01/28/2020
Great taillight quick install no issues!
I bought the taillight and couldn't be any happier! One thing that confused me was if i needed the Blaster-X Control Switch thing to make it work, you don't, I just left the wires untouched, works flawlessly and took about 10 mins to install, don't hesitate just buy it along with the flasher relay and plug and play it all and good to go!
david d.

United States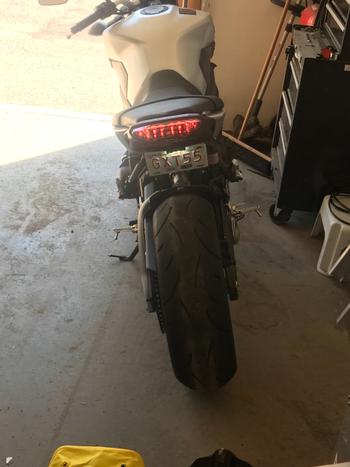 08/26/2018
Great product!!
Tail light is exactly as advertised. Literally couldn't be happier with it :)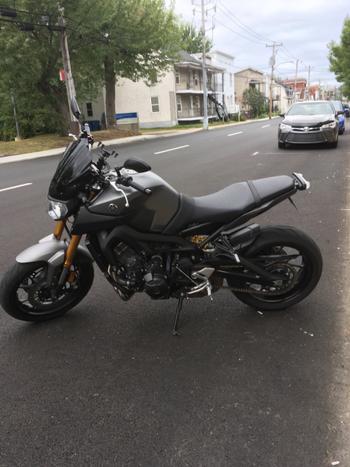 08/16/2018
Custom LED Integrated tail light FZ-09
Fit number one super bright thank you easy to install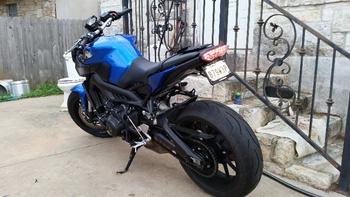 03/16/2018
Blaster-X integrated LED tail light
Easy to install, looks great, works great, it eliminates the need for the tail signal lights which is what I wanted.
07/12/2017
Blaster-X Integrated Tail Light 2015 FZ-09
I have haven't done many electrical or even many mechanical projects on my own bike before but from the reviews I thought I could handle it. Indeed, the process is pretty straight forward and the modules to help slow blinker speed and program the flashing patterns are a must if you want to take full advantage of all of the advanced features of this tail light. I have been getting a ton of compliments, feel much safer and stylish with this great tail light. It is also significantly brighter than the stock light. I live in New York city so it's incredible brightness combined with the various [Brake Alert] flashing patterns is sure to get the cabbies attention. Would be happy to review the blinkers if they go on sale!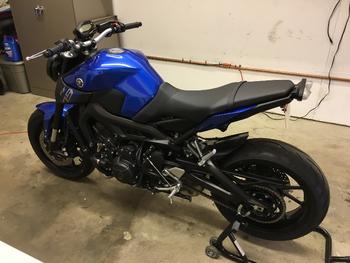 05/04/2017
FZ 09 - Tail Light
The tail light and relay worked perfectly. The tail light looks and feels like the OEM tail light. It was very easy to install. The LEDs look great with my flush mounted LED front turn signals. It changes the whole look of the bike. I am very happy with the results!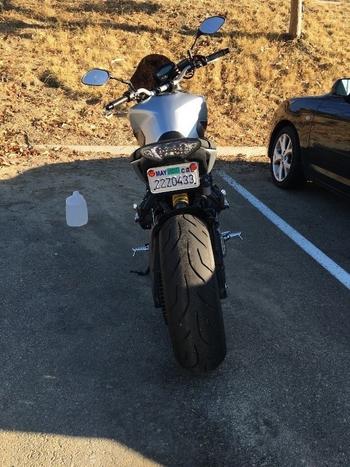 07/16/2016
Stellar product!
Ultimate tail tidy in conjunction with a fender eliminator. This product is ridiculously bright and makes the FZ-09 look great! Be wary during install of everything to disconnect battery power before connecting everything up. I installed this with the ELFR relay as well as front LED turn signals and blew a fuse to the tail light during install of the front turn signals. IGN 11/10 would buy again.
01/27/2023
2015 Yamaha FZ09 taillight
Great product, bought the smoked lens along with the connector relay and it works great. The lens is not super dark so the light is still very visible, the LEDs are bright. All plug and play, the start up sequence looks cool.
Zac M.

United States